Paulo Júnior

Add Paulo Júnior as a friend

Paulo Júnior will be notified and will have to accept this friendship request, to view updates from Paulo Júnior and their ratings you must follow them.

Remove Paulo Júnior as a friend



Lists
Recent reviews
Posted : 3 months, 1 week ago on 10 July 2021 09:50 (A review of
Black Widow
)
This was a great movie, although the plot could be better. Action scenes, character interactions and the character evolutions and personalities are also very good. Except Natasha, they did flesh her out but revealing a boring iteration of her, especially compared to the comics. Maybe because the new Black Widow will be Yelena Belova and they did manage to make her interesting and likeable to me.

0 comments,
Reply to this entry

Posted : 9 months, 2 weeks ago on 2 January 2021 08:22 (A review of
Wonder Woman 1984
)
A great movie, with very good direction, Jenkins manages to created awesome scenes and set pieces. Cheetah is also a great villain. The emotional core is strong too. But the special effects on the whip are pretty bad and the fantasy rules of magic are too lose and contradict themselves many times.

0 comments,
Reply to this entry

Posted : 1 year ago on 21 September 2020 04:16 (A review of
The Legend of Zelda: Ocarina of Time
)
Although REALLY good and REALLY epic and near-perfect, I think this didn't age perfectly. Maybe I'd feel differently about it if I had played the 3DS version. I just think other games have higher highs (and that, of course, is because they're built on OoT's foundation). It's, as per Zelda tradition, filled to the brim with quality content with a lot of variety, depth and charm.

0 comments,
Reply to this entry

Posted : 1 year, 3 months ago on 3 July 2020 04:01 (A review of
The Legend of Zelda: Majora's Mask
)
This game is very good. Especially considering the relatively small development time (for Nintendo standards). It is a new game; but the reuse of assets, although expected, really makes it less interesting. Also, the timeloop mechanic, although very unique, can be irritating at times (you lose all your accountable items), but it was very well implemented nonetheless. I can't deny the game is a bit on the short side and has almost no story in it (it's all veeery vague). And in this game a lot of what seems to be side-quests are needed to progress. This, and the stray fairy searches in the dungeons, are exploratory designs that are at constant odds with the time limit. But Termina is a much more unique location than Hyrule.

0 comments,
Reply to this entry

Posted : 1 year, 5 months ago on 28 April 2020 02:54 (A review of
Head On
)
This is good, it has a lot of style, but it's confusing. Alex Dmitriades is very hot, a serviceable actor and very charismatic.

0 comments,
Reply to this entry

Posted : 2 years ago on 22 September 2019 03:31 (A review of
Spider-Man: Far from Home
)
This was the best Spiderman movie so far, of all of them. The emotional core is very strong and the scenes are creative. I just wish Peter had more humor. Maybe they were trying to show that Peter was in a low moment after what transpired in Infinity War and Endgame, but not even in the last scene Spidey's his jokey self, come on!

0 comments,
Reply to this entry

Posted : 2 years, 11 months ago on 11 November 2018 08:57 (A review of
Asterix and the Great Rescue
)
This is an interesting game, it works well, but the attack distance is really short, some obstacles are badly telegraphed and get you by surprise (there is a lot of trial and error) music is repetitive, it's annoying that the character falls off from rising platforms when they reach the top and there's the VERY unnecessary addition of time limit, which is the single worst mistake this game has made. On the other hand, the art is neat, the slight difference between the two characters is interesting and the stage layouts are neat too.

0 comments,
Reply to this entry

Posted : 3 years, 3 months ago on 26 June 2018 06:12 (A review of
Money Heist
)
I hate how everyone is extremely sentimental and how lucky the thieves are. But it's kinda good, I suppose.

0 comments,
Reply to this entry

Posted : 3 years, 6 months ago on 15 April 2018 04:00 (A review of
Star Ocean
)
After having finished this game, I feel satisfied abou most of what I've seen. It's a neat little game, with gorgeous art and very ambitious and ahead of its time mechanics-wise. It also feels unfinished, rushed and experimental in a way that shows it was trying to do more than what they could handle at that time. For example, despite the cartridge having the largest size a SNES cartridge ever had at its time, there is a lot of reuse and repetition, a lot of tiles and enemy sprites are palette swapped to death, and it gets a bit tiresome not seeing really new things. The game isn't even that big. Another instance of the producers being in over their heads is tht the story feels disjointed, some plot threads ended up in nothing, others came out of nothing. That is because of the nonlinear way in which the game presents itself, with many characters being able to join (or not) your party. It probably is true that I missed some story beats because some characters never joined. But even the characters that joined, had no closure, and I think it's a mistake that the stories of characters I have depend on characters I don't have. In my playthrough, the missing sister of Joshua never came to an end. And even in the main story, there are unexplained things. But still, the story is good, intriguing and the characters are engaging. Simple, but engaging. Yes, the story could've used more sci-fi, since the beginning is all about that, then it settles for all the basic fantasy clichés possible, whereas the sci-fi aspects, while derivative of Star Trek, where rather unique. The clash of new tech and medieval stuff simply didn't happen, because it is almost never mentioned during the game. They even find an excuse for the characters to not be able to use modern guns. This all makes most of the game have an element of wasted potential. To pull down things even further, the characters show up and become a part of the story, but they also feel disconnected to it. In the grand scheme of things, there is little in terms of personal stakes here. Only two in the cast really have that. The rest is together because of gameplay and feel forced into your party. Their stories don't help round out the story and, because of that, the game is you going from dungeon to dungeon-like places with little in-between, which makes it a dungeon crawler. There isn't story enough to pepper through the game and the main story is good as is, so character-driven side-plots could've helped the game feel fuller. It doesn't help that the citizens of the towns you visit have nothing interesting to say, also their dialogue doesn't change throughout the game. In one instance, for example, a spaceship falls near a little town, if you go there there are people around the ship wondering what is that thing (it's an underdeveloped planet)... but if you go into the town, the citizens are saying the same things they were saying when you first got there, at the beginning of the game. To go back to this town, you have to backtrack. In this particular case it's optional, but there is a lot of mandatory backtracking to be had here. Also, there is no overworld, which means it's all connected. There also isn't any means of transportation, so it's a bit tedious. There is a world map but it's tiny and doesn't help, and I got tired of being constantly lost in places I had already visited, because some areas that connect the towns are complex. Now that I remember, there is one method of transportation, which is ships. But they don't go to every town, and you still have to remember which towns tie to which others and in what continent they are. All of this without a map. No wonder I had to use walkthroughs sometimes. Another complex map is that of the dungeons. They are neat mazes, just the right amount of complex. For the most part. Some in the end go too far, because the enemies there get hard. But the game itself isn't too hard, it's just right IMO. The systems of the game also help there, because they feel good. There is the private action system, or PA, that is what allows you to change what characters will join or leave you and also define the ending you get. It's underused, though. There is the skill system, that really feels like you're making the characters your own, that you're making meaningful choices. In battle, all of your choices feel they matter, including battle formations and strategies, it's awesome! Although I like Final Fantasy XII's gambit system much more than the usual tactics system used here. As I said, this is experimental, thus unrefined. It might feel like a button masher most of the time, but sometimes the depth is really apparent. What isn't evident is item creation. It's not in the most intuitive place, and I only found it near the end of the game, which made it useless to me. This probably happened because the game is fantranslated, which means I never got to read the instructions manual, but still it looks like these aspects are hidden. Still, it's rather robust for its time, although I feel like the innate Talents of the characters make it more rigid and scripted than it would be ideal. Another thing that had no impact in my playthrough was elemental damage or healing. Yes, sometimes one of your attacks or spells against an enemy will heal him instead of damaging, but you'll rarely know why that is and you'll win without knowing. On to story again, you might feel disappointed when the story begins to shift to demon armies and such, but I was pleasantly suprised when it all began to connect, and it's these connections that made the story good, if a bit anticlimactic in the end. There are outdated sci-fi concepts, no doubt fruits of science itself back then, like people becoming invisible when they die because there is copper instead of iron in their blood. It's something that wouldn't fly nowadays. That said, I still think it is good enough for what it is, it's very charming and intriguing and it does deliver for the most part. I would recommed this game to people.

0 comments,
Reply to this entry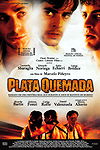 Posted : 3 years, 9 months ago on 18 January 2018 07:36 (A review of
Burnt Money
)
I don't know why so many straight sex scenes and no gay sex scenes at all when the two protagonists are the gay guys. Also, the story is boring, nothing happens and the thieves are all dumb. Angel especially annoys me with his unexplainable behavior. Though cinematography and interpretations are awesome.

0 comments,
Reply to this entry
Movies
TV
Games
Books
DVDs